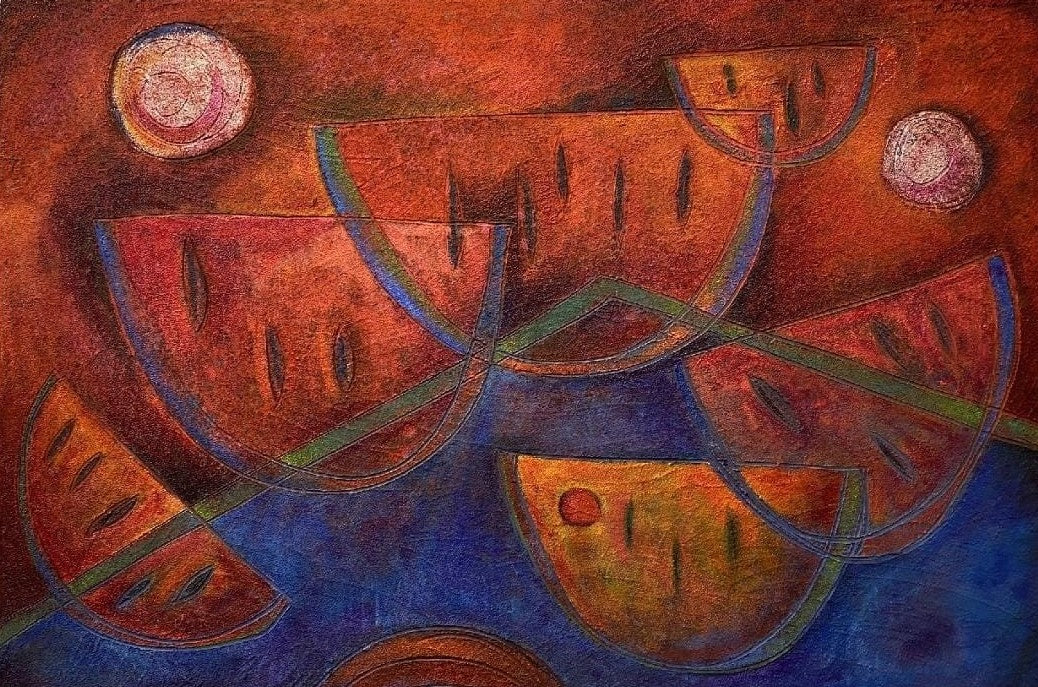 Sandias XII by Rosendo Pérez Pinacho
Sandias XII
Mixed media on canvas.
80 x 120 cm.
About the Artist: Rosendo Pérez Pinacho
Rosendo Pérez Pinacho was born in Candelaria Loxicha Pochutla, Oaxaca in 1972. He studied at the School of Fine Arts of the Autonomous University of Benito Juárez in Oaxaca under the guidance of Master Shinzaburo Takeda. He has found his artistic references in the works of Mexican and European masters, which he has carefully studied through museum visits and trips abroad.

Like other Oaxacans, his thematic influences have been shaped by his homeland, customs, and legends. As can be observed, these influences carry significant weight that manifests in characteristic images, referring to a way of thinking that connects humans with nature and animals. Additionally, his childhood experiences of outings and games, along with his thoughts and reflections, contribute to his work, combining organic elements and personal symbolism that he imparts to his forms within a balanced narrative.
He has participated in numerous collective and solo exhibitions held in galleries and museums across Mexico, Japan, the United States, Argentina, and Europe.
Free Insured Domestic Overnight FedEx Shipping is included in the price listed. 
We ship internationally. International customers are responsible for the cost of shipping along with the custom taxes and/or duties of the receiving country.
Products are usually delivered in 1-2 Business days.